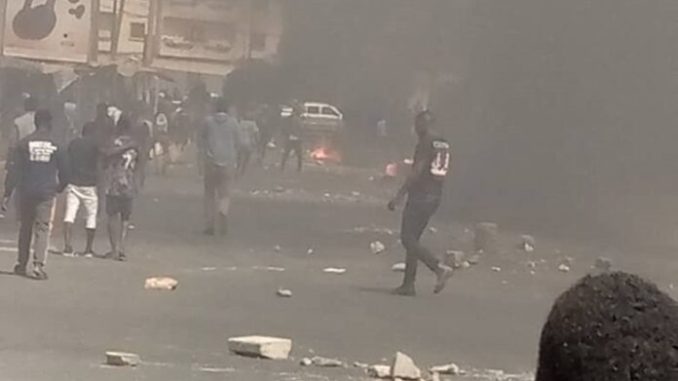 Activists have been arrested, journalists and medias have come under attack and at least five people have died as anti-government protests erupted, quickly progressing to violent riots and violence in the Senegalese capital Dakar, Ziguinchor and other regions.
At least one of those killed was believed to have been shot by security forces.
Update: As of 11 March, there were at least 10 deaths and 590 people had been injured.
Responding to the unrest, Director of ARTICLE 19 West Africa Fatou Jagne said:
"ARTICLE 19 is disturbed by the excessive use of force by security forces during protests, as well as by the violence and destruction of public and private property during the riots. As the crisis and the polarisation have deepened, media has become a casualty.

"We are deeply concerned by attacks on and the threats against journalists and call on all parties to respect media freedom and refrain from violence against journalists.
The blocking of two media houses, Walf Fadjiri and Sentv and the violent attacks on the private media Radio RFM and Dakaractu and the government overned newpaper Le Soleil newspapers as well as the physical violence resulting in injuries to four journalists covering a demonstration are unacceptable and terrifying. Targeting media houses during a political crisis is not only dangerous for the safely of journalists, it also increases tensions and the risk of harm." It is a real threat to a free and independent press and to access of the public to information. Democracy cannot function without the plurality of media and the diversity of opinions ".
The broadcasting regulator (CNRA) ordered communication signals for the two media outlets to be blocked after they broadcast footage of the unrest.
The internet has also been disrupted, and cybersecurity website NetBlocks said social media and messaging apps were under tight restrictions throughout Friday, March 5.
The protests followed the arrest of opposition figure Ousmane Sonko on March 3 as he prepared to appear in court on allegations of rape, escorted by his militants and protesters on his way. He was charged for disturbing public order and participating in unauthorized protest and remanded in custody.
His supporters insisted the charges are politically motivated and false and that President Macky Sall is stepping up efforts to remove his rival ahead of the presidential election, which is due to take place in 2024.
The Government alleges that it is a matter of justice in which it is not involved.
Since the beginning of the month, at least four activists and leaders of citizens' movements including Guy-Marius Sagna, are under arrest and accused of offences such as threat to state security, public order, call to insurrection…
Faced with this escalation of violence and tension, the Government must take concrete measures to strengthen the safety of journalists and protect the independence of the press and public assess to information, shed light on the circumstances of the death of people, release politicians, activists and protesters detained.
A19 will very soon issue a detailed report on the attacks on media, protest repression, riots and lootings and arrests of activists resulting of the ongoing cris.